I don't know about you but I get all turkey'd out over the holidays.  So when I passed one of the local restaurants when I was Christmas shopping and recalled the yummy dinner that my friend had the last time we dined there, I knew what I'd be making for dinner on the eve of Christmas Eve: Korean BBQ Short Ribs. 
I quickly Googled for a recipe, just to get the basic idea of what I needed, and eagerly headed to the grocery store to pick up what I needed.  This is the first time I've made short ribs, never mind Korean style short ribs, but they turned out pretty good if I do say so myself. 
I know what I'll do differently next time (mainly, not listen to the advice of the other 'chefs' in the family, as it's true what they say, too many of them do spoil the broth!) but for the first time out, they were tasty and reminded me of summer.  Once I've perfected the recipe, they may just become a new Christmas Eve Eve Tradition!
Koren BBQ Short Ribs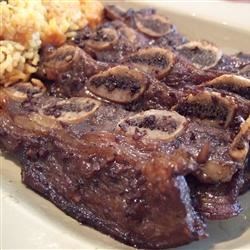 3/4 cup good quality, reduced-salt, gluten-free soy sauce
3/4 cup water (I might try a sweet rice wine next time)
3 tablespoons white vinegar (I might try rice vinegar next time)
1/4 cup dark brown sugar
2 tablespoons white sugar
1 tablespoon black pepper
2 tablespoons sesame oil
1/4 cup garlic, minced
1/2 large onion, minced
3 pounds short ribs
Pour soy sauce, water, and vinegar into a large glass bowl.  Whisk in brown sugar, white sugar, pepper and sesame oil until the sugars have dissolved.  Stir in minced garlic and onion.  Grab a large zip lock freezer bag and pour in marinade.  Submerge the ribs in the marinade zip lock bag, squeeze out all the air and seal (you may need to split ribs and marinade between two zip lock bags or use a glass dish and cover with plastic wrap).  Refrigerate 12 hours or over night.  The longer you marinade the ribs, the more tender they will be.  I would occasionally take the ribs out of the fridge and rotate them inside the zip lock bag to evenly distribute the marinade.
Prepare barbecue (medium-high heat).  Remove ribs from zip lock back, shake off excess marinade and discard marinade.  Working in batches, grill ribs until browned and cooked to medium-rare (about 4 to 7 minutes depending on your grill).  You can also broil your ribs in the oven if you're unable to BBQ.  Serve with cooked chopped spinach or kimchi (Korean cabbage).
Kitchen Table Talk…
Have you ever been inspired to recreate a meal you have enjoyed when you dined out? Feel free to share your creations in the comment area below. Or if you like this post, share it with your friends and family through your favorite social media service.
Related Reading: